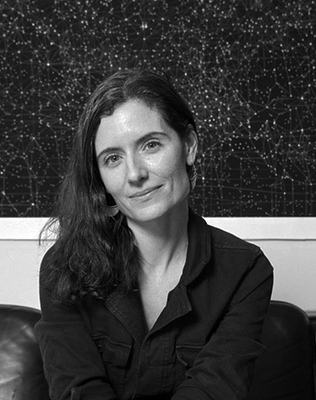 Victoria Burge's multidisciplinary practice employs mathematical concepts and mapping to develop a visual language of pattern.

Burge's works on paper are in the permanent collections of the Metropolitan Museum of Art, the Philadelphia Museum of Art, the New York Public Library, the Smithsonian American Art Museum, the British Museum, and the Hunterian Museum, Glasgow. She is a recipient of a Pollock-Krasner Foundation Grant and has been awarded fellowships by MacDowell and the Josef and Anni Albers Foundation. Her images have been featured in ARTnews, Art in Print, and The New York Review of Books.
Recent exhibitions include
Victoria Burge: Notations
, Planthouse Gallery, New York (2019);
Selections from the Department of Drawing and Prints: Hidden and Displayed
, the Metropolitan Museum of Art, New York (2018);
Penumbra
, the Print Center, Philadelphia (2016); and
The Avant-Garde Won't Give Up: CoBrA and Its Legacy
, Blum & Poe Los Angeles (2015).
COLLECTIONS:
The British Museum, London, UK
Beinecke Library, Yale University, New Haven, CT
Dieu Donné, Brooklyn, NY
The Drawing Center, Viewing Program, NY
Esopus Foundation, Brooklyn, NY
The Fabric Workshop and Museum, Philadelphia, PA
The Free Library of Philadelphia, Philadelphia, PA
Hilton Worldwide, Corporate Headquarters, Mclean, VA
Hunterian Museum, Glasgow, Scotland
The Intercontinental Hotel, NY
Los Angeles County Museum of Art, Los Angeles, CA
MacDowell, Peterborough, NH
The Metropolitan Museum of Art, NY
The New York Public Library, NY
The Philadelphia Museum of Art, Philadelphia, PA
Rudin Family Foundation, NY
The Smithsonian American Art Museum, Washington, DC
Snite Museum of Art, Notre Dame, IN
Stanford University Medical Center, Stanford, CA
Wesleyan University, Middleton, CT
Woodmere Museum, Chestnut Hill, PA
The Williams Collection, New York, NY
RESIDENCIES, AWARDS, GRANTS:
The Josef and Anni Albers Foundation, Bethany, CT
MacDowell, Peterborogh, NH
The Ballinglen Arts Foundation Fellowship, Ballycastle, Ireland
The Fabric Workshop and Museum, Philadelphia, PA
The Pollock-Krasner Foundation, New York, NY
The Independence Foundation Fellowship in the Arts, Philadelphia, PA
Haystack School of Craft, Deer Isle, ME
Penland School of Craft, Bakersville, NC
Image Credit: Ben Rosenzweig